Sementara para partisipan berada bersama para eksekutif tinggi dari KONE, representatif dari perusahaan besar seperti IBM dan ABB berbagi ide dengan pengusaha startup - semua bersamaan saat 15 tim yang berkompetisi dalam hackathon pertama KONE sedang bekerja. Acara tiga hari ini merupakan semacam cawan petri, dimana teori inovasi dapat berbuah di lingkungan praktikal.
"Saya berani mengatakan bahwa hackathon ini lebih baik daripada yang saya harapkan," ujar Samu Salmelin, Kepala dari Services and Solutions R&D di KONE, tentang acara yang diadakan di People Flow Center KONE di Hyvinkää, bulan Maret ini.
"Ada sangat banyak area baru yang merupakan bagian dari transformasi digital," katanya. "Kita tidak bisa memiliki semuanya dengan sumber daya internal dan itulah kenapa hackathon adalah sebuah forum yang hebat," tambah Salmelin.
TANTANGAN KUNCI
Salah satu tugas utama saat ini adalah untuk mencari cara baru untuk meningkatkan pengalaman pengguna akhir. Para hacker juga diminta untuk mempertimbangkan bagaimana cara untuk membuat hidup menjadi lebih mudah bagi teknisi servis dan supervisor gedung, dan secara umum bagaimana cara untuk membuat bangunan menjadi lebih "pintar".
Streamr yang bermarkas di Helsinki adalah salah satu dari peserta kompetisi yang memikirkan data apa yang dihasilkan dari elevator. "Data yang berbeda memiliki kualitas yang berbeda," kata Juuso Takalainen dari Streamr. "Saat Anda menggabungkan data-data tersebut terkadang Anda akan mendapatkan gambaran besar yang lebih berharga dari data aslinya," tambahnya.
Dan dengan perlakuan yang tepat, "gambaran besar" tersebut berubah menjadi konsep elevator telephatic, yang dapat mengetahui ke mana tujuan seorang penghuni gedung akan pergi sebelum mereka menekan tombol lift. "Telephatic elevator hanyalah satu dari banyak ide gila yang terasa paling bisa dilakukan," ujar Takalainen.
MENGHALUSKAN BAGIAN YANG MASIH KASAR
Dapat direalisasikan merupakan kata kuncinya. Itulah sebabnya pada hari kedua para partisipan diberikan kesempatan untuk mendapatkan tanggapan terhadap ide-ide awal mereka. "Sesi-sesi ini diadakan untuk memastikan tidak ada yang menyimpang dan ide-ide yang diajukan dapat memberikan perbaikan yang berarti bagi pengguna dan pengelola fasilitas dan juga mempermudah kerja rutin teknisi," kata Salmelin.
Ide yang fantastis tidak selalu dapat direalisasikan. Dengungan seputar 'Internet of Things' (IoT) adalah contoh sempurna, karena walaupun banyak orang yang membahasnya, hanya ada sedikit ide yang konkret dan mudah dikomersilkan. Streamr ingin mengubahnya.
"Data masuk, data keluar, dan kemudian lakukan sesuatu yang tepat dengan data tersebut; itu adalah yang seharusnya dilakukan IoT, walaupun konsepnya menjanjikan, masih belum belum ada hasil nyatanya," ujar Takalainen. "Mungkin telephatic elevator akan menjadi terobosan besar untuk industri elevator."
HASIL YANG MENEGANGKAN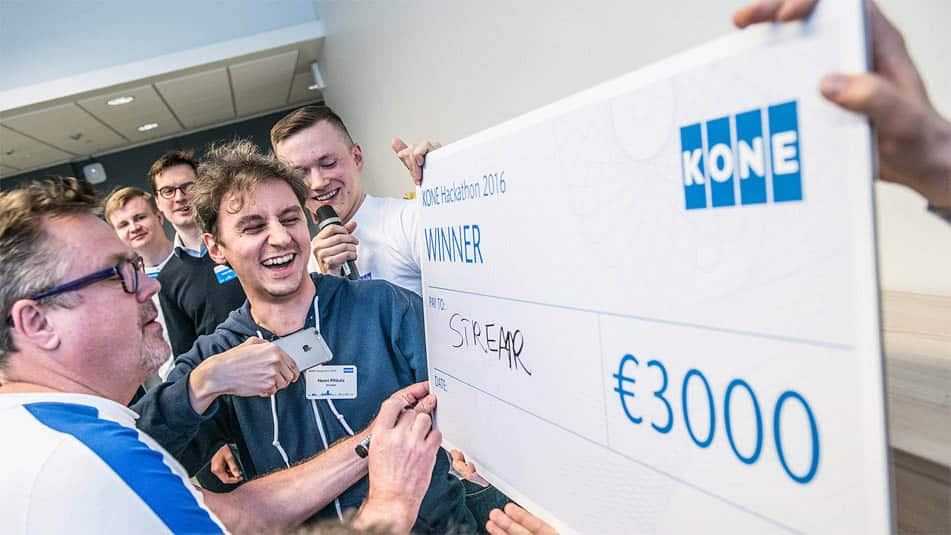 Pada hari ketiga, KONE mengumumkan 5 finalis - dan Salmelin menyampaikan bahwa KONE akan tetap membuka jalur komunikasi dengan semua peserta karena mereka telah mempresentasikan ide yang solid untuk masa depan. Tapi pada akhirnya Streamr, berkat presentasi luar biasa tentang idenya, berhasil membawa pulang hadiah utamanya.
"Ini merupakan ide yang unik yang akan meningkatkan arus orang atau People Flow, memiliki nilai komersil, and di atas semua itu, bisa direalisasikan," kata Salmelin. Didukung oleh suksesnya hackathon yang pertama, kerangka rencana sudah mulai dijajaki untuk mengadakan kompetisi serupa di pasar utama KONE dengan pertumbuhan tinggi, India dan Tiongkok.
"Hal baru adalah inti dari sebuah hackathon," kata Takalainen. "Jika Anda menginginkan solusi yang spesifik, Anda seharusnya menyewa konsultan. Dengan hackathon, Anda menyelesaikan sebuah masalah sebelum orang-orang sadar masalah itu ada," katanya.
65 tim hacker mendaftar untuk berpartisipasi dalam kompetisi ini
15 tim, mulai dari mahasiswa hingga perusahaan start-up, terpilih untuk mengikuti acara yang berlangsung selama tiga hari ini
Para programmer menggunakan API yang terhubung dengan KONE dan IBM.