"Memalukan rasanya untuk mengakui bahwa alat sederhana seperti pedometer telah membuat saya lebih betanggung jawab akan kesehatan saya sendiri," kata Ken Schmid, Senior Vice President, Finance di KONE Amerika.
Schmid tidak sendirian. Semakin banyak orang bergantung pada alat-alat untuk meningkatkan kesadaran akan kesehatan. Tapi seiring dengan meningkatnya dampak negatif stres terhadap pikiran dan tubuh karyawannya, banyak perusahaan, seperti KONE, yang berusaha untuk membantu karyawannya untuk menjaga kesehatan. Program global Elevate Your Health dari KONE merupakan contohnya, di mana fokusnya adalah untuk menjadi lebih sadar, aktif dan bertanggung jawab, dan memberikan negara-negara kebebasan untuk mengajukan ide-ide agar karyawan lebih aktif.
Sebagai contoh adalah 'One Billion Steps Challenge' di Amerika. Karyawan KONE di Kanada, Amerika Serikat dan Meksiko berjalan menuju kesehatan yang lebih baik dengan melangkah sejauh satu milyar langkah bersama. "Ini mungkin terdengar tidak mungkin tercapai tapi jika Anda membaginya menjadi langkah individual - minimal 3.500 langkah per hari per orang - ini menjadi sangat mungkin dicapai," ujar Schmid.
Inisiatif ini diluncurkan karena berjalan merupakan aktifitas yang hampir semua orang bisa lakukan. Tidak membutuhkan alat atau fasilitas khusus, hanya sepasang sepatu. Selain menjaga fisik tetap sehat, berjalan juga dapat mengurangi stres - terutama jika dilakukan di luar ruangan di lingkungan yang nyaman.
Secara personal, kata Schmid - "Saya mulai beberapa tahun yang lalu dengan berjalan dan kemudian beralih ke jogging, bersepeda dan menggunakan alat elliptical trainer serta angkat beban. Sekarang saya lebih berfokus pada diet saya." Hasilnya? "Tekanan darah lebih rendah, berat badan berkurang, energi dan produktivitas meningkat serta pikiran yang lebih positif," katanya.
BERGERAK AKTIF
"Menjadi aktif dan menjaga kesehatan tubuh serta makan dan tidur yang cukup. Seringkali hanya itu yang dibutuhkan," kata Tuulia Saario, Head of Occupational Health and Well-Being di HR KONE Finland.
Dia berpendapat bahwa dengan sedikit usaha, cedera kerja seperti sakit punggung dan leher dapat berkurang dan bahkan hilang sepenuhnya. "Banyak orang percaya bahwa peregangan itu penting, tapi sebenarnya akan lebih baik lagi untuk menggunakan otot secara aktif. Latihan sederhana seperti squat dan gerakan berputar dapat sangat menguntungkan bagi orang-orang yang banyak menghabiskan harinya di posisi yang statis duduk di meja ataupun melakukan kegiatan fisik," jelas Saario.

Selain kesehatan fisik, Saario berpendapat bahwa lingkungan kerja yang bersahabat memiliki peran penting dalam kesejahteraan orang secara umum. "Waktu istirahat untuk kopi dan makan siang atau meeting mingguan adalah cara yang baik untuk lebih mengenal kolega dan saling bertukar informasi. Interaksi tatap muka adalah penting dan dapat meningkatkan kepercayaan dan kesejahteraan dalam sebuah komunitas," katanya.
PENTINGNYA KESEHATAN DI INDIA
Di India, kata Suraksha berarti "Kesejahteraan Seluruhnya" and itu telah menjadi fokus dalam empat tahun terakhir. Karyawan KONE di kantor-kantor di seluruh bagian negara itu telah didorong untuk mengambil bagian dalam berbagai aktivitas, termasuk bersepeda, trekking, meditasi dan bahkan yoga tertawa. Kamp kesehatan informatif dan cek kesehatan telah diadakan secara rutin dan sebuah buku panduan yang berisi cara-cara mudah untuk makan lebih sehat dan kesejahteraan menyeluruh telah diluncurkan pada 2014. "Kami berkolaborasi antar departemen dan terus mengingatkan akan pentingnya kesejahteraan pribadi," ujar J. Kabilan, HR Director.
Dengan Program Bantuan Karyawan, yang diluncurkan pada 2012 berkolaborasi dengan partner eksternal, jasa konseling juga telah dimanfaatkan dengan efektif oleh para staf. "Beberapa karyawan telah mendapatkan manfaat dari sesi-sesi konseling ini dan telah berhenti merokok atau minum minuman keras dan dampak yang timbul terhadap kehidupan keluarga mereka sangat membahagiakan dan memuaskan," kata Kabilan.
Program global KONE 'Elevate Your Health' telah memunculkan beberapa inisiatif lokal yang bermanfaat. Karyawan di seluruh benua puas dengan program ini.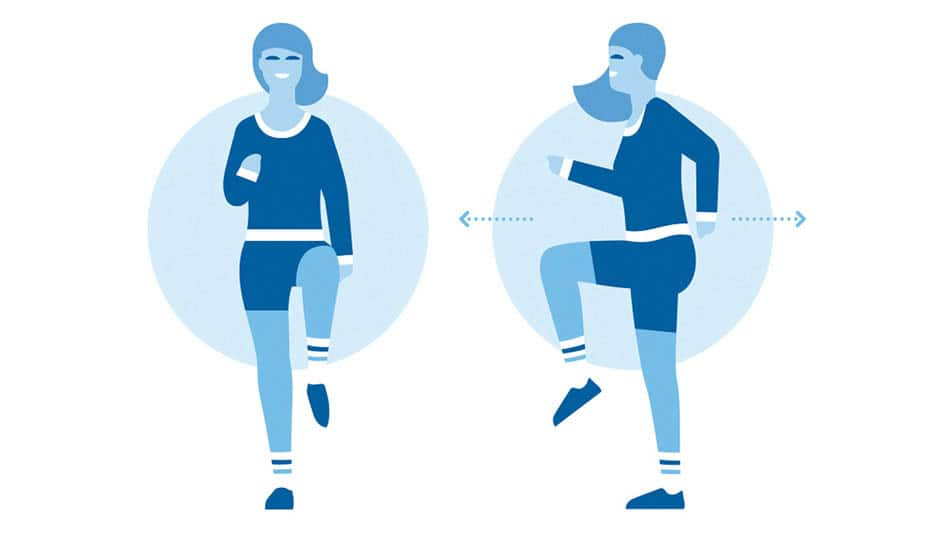 Jadikan tiga latihan ini kebiasaan harian agar bisa meningkatkan energi bagi tubuh dan pikiran. Anda bahkan bisa juga melakukannya dengan kolega pada waktu istirahat.
1. Mulai dengan jalan di tempat dan berjalan maju dan mundur. Gerakan lengan Anda ke atas dan ke bawah sesuai dengan irama kaki, jaga agar siku tetap ditekuk dan jangan mengepalkan tangan terlalu keras. Lakukan selama 3 menit.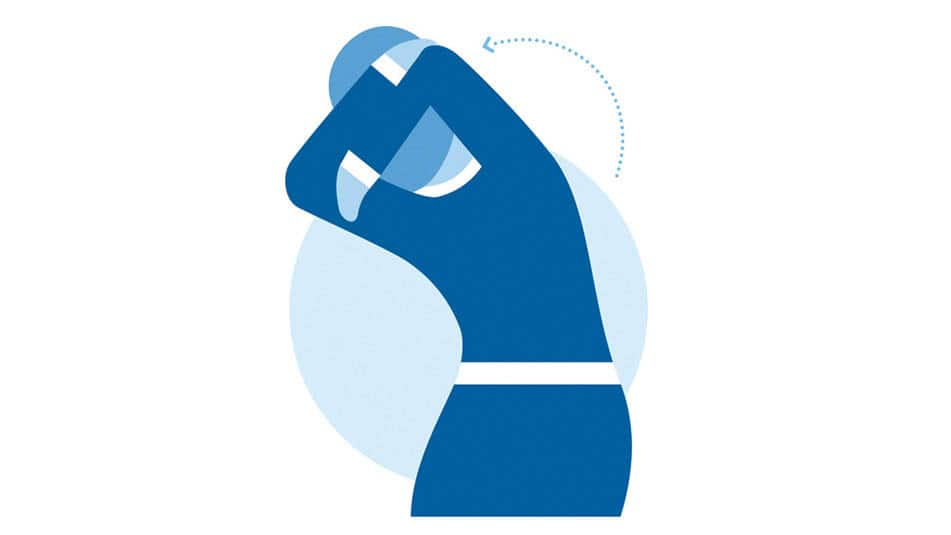 2. Letakkan tangan kiri Anda pada siku kanan seperti contoh pada gambar dan secara perlahan regangkan. Tahan selama 8-10 detik dan ulang untuk sisi sebaliknya.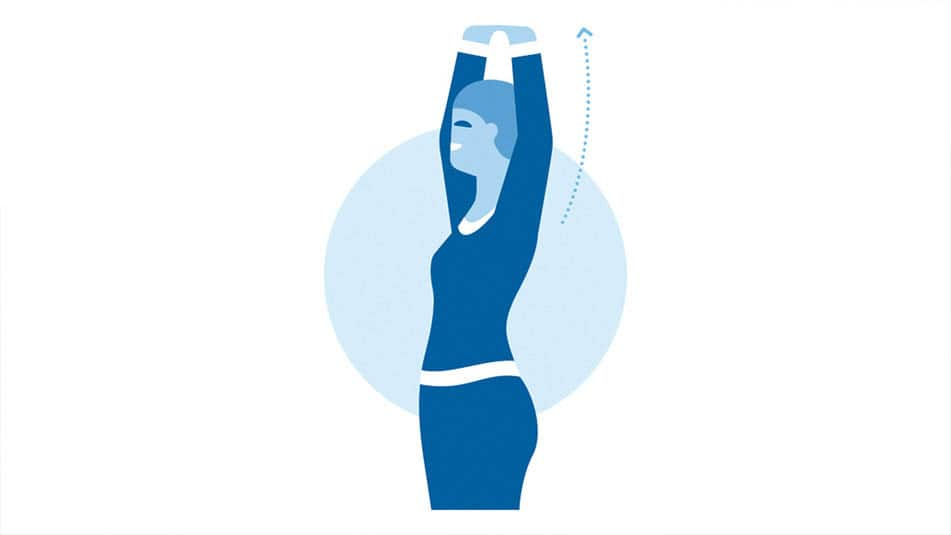 3. Berdiri dan rentangkan lengan Anda di atas kepala dan genggam tangan. Tahan selama 15-20 detik.